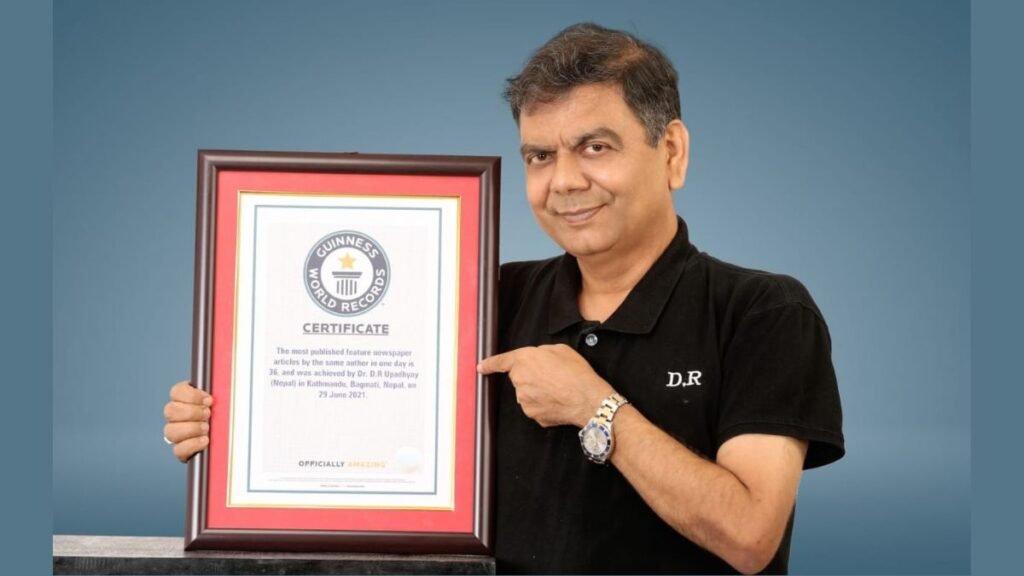 New Delhi (India), January 05: A lyricist of over 150 songs for 27 song albums, author of fifteen novels, and 3 songbooks. Dr. DR Upadhyay is a 132 world record holder who paints a picture through his words.
When people are awakened to new ideas when warm and cozy blood explodes in the heart when various mirages disturb the brain. The country asks for hard-working citizens, and Nepal has Dr. Upadhyay.
He may be a regular guy with a frail body consisting of bones, skin, and flesh, yet he has 132 world records to his credit because of his unwavering resolve and strong self-belief.
Of course, this does not come naturally for any individual to break so many world records in his lifetime. But it was made possible thanks to the dedication of a Nepali guy, who is now regarded as one of the top ten world record holders among the billions of people on this planet.
When it comes to showcasing the identity and reputation of the nation, it can be done through language, literature, music, art, and culture. They must be protected and promoted if the nation is to be known to the world and promote economic development. Through these authentic Nepali resources, Dr. Upadhyay strives to introduce the nation to the outside world. With a degree in sociology, he is the youngest son of proud parents late, Shivashankar Prasad Upadhyay and Umadevi Upadhyay-Khanal.
He has received 132 world record certificates for accomplishments in various categories from renowned organizations, including the Guinness Book of World Records, World Books of America, World Books of Australia, World Books of London, Champion Book World Records, King's Book of Records, World Talent Book Record, Everest World Record, Star World Record, and many more. In addition, he most recently received the esteemed 'Dada Saheb Phalke Award' from India. He has received numerous accolades and prizes on the national level and international levels. Additionally, the Songwriters Association presented him with the Songwriter of the Year Award in recognition of his achievements. He is the first seeker from Nepal to win so many prestigious accolades and prizes, and his name alone has sparked a fresh surge among seekers worldwide.
He has been successful in defining literature for records as opposed to literature for pleasure, and each creation is superb. Nepali language, literature, music, art, and culture have been boosted thanks to Dr. Upadhyay's efforts. Family and society influence everyone's goals. He is guided by civilization and culture, and his unwavering confidence in himself inspires and propels him onward. He does not use the pen for tomorrow's greed but for today's eagerness to collect and consolidate. His special ability is to turn this work into a record. Dr. Upadhyay can flow freely in the stream of self-imagination and realism by jumping into various genres and dimensions in literature and oriented toward creating lively literature full of consciousness.  
Dr. Upadhyay believes that literature should be alive and attractive like a huge Pipal tree, with its roots reaching deep into the ground. His albums include, 'Nashalu Najar', 'Jakham', 'Mountain Melody', 'Joho', 'Pratinaad', 'Sudharas', and so on.
Similarly, Dr. Upadhyay's novels include 'Vajraghat', 'Tyagi', 'Bhakyachakra', 'Bituli', 'Atirikta', and so on, and the 16th novel is on its way to being published and available to readers.
In addition, the world's smallest 2X2 inch song collection 'Anubhutiko Mazherima', Nepali note size song collection 'Chot' and Devanagari script with 34 letters of consonant characters 'Priyashi' have also been published. Apart from this, his articles, songs, and poems have been published in Nepali national daily newspapers.
Dr. Upadhyay has this many achievements by breaking through hundreds of mountains of struggle. He previously set 110 world records and announced 22 more world records on November 12, 2079, in the capital Kathmandu. The chief guest, First Vice President of the Republic of Nepal, Parmanand Jha., handed over the certificates of 22 world records to Dr. Upadhyay. Educational Presidential Award recognized by the Presidents of the USA, Donald Trump in 2019 and Joe Biden in 2021 has also been awarded to him.
He prefers positivity in his creations and writes novels for society and songs for self-satisfaction. He believes that writing is an important unit of his life, happiness, and a great source of motivation. Dr. Upadhyay is continuously trying to add more records to his collection. This outstanding talent has continuously strived to reach this height.  He is a source of inspiration for all of us.
If you have any objection to this press release content, kindly contact pr.error.rectification[at]gmail.com to notify us. We will respond and rectify the situation in the next 24 hours.