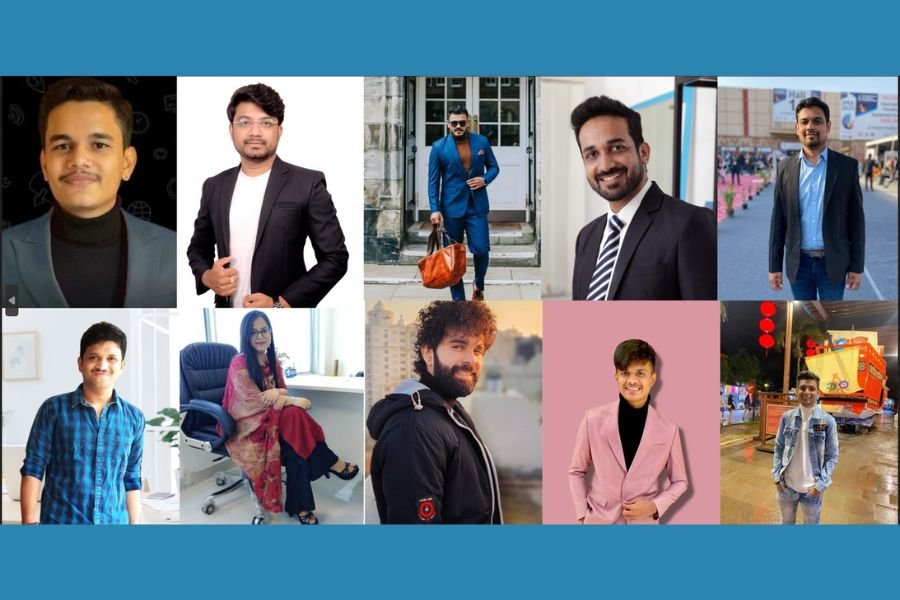 New Delhi (India), March 15: 
1. Dr Sanjay Lunia, a renowned personality in the publishing industry and founder of Ekaansh – an Astro luxury brand. As a TEDx speaker, Dr Lunia has inspired many with his visionary ideas and contributions to the field. He has been recognized with esteemed awards such as the KarmaVeer Chakra Award 2021 and the World's Youngest Book Publisher title by the International book of Records. With his extensive experience as an editor and mentor in the publishing industry, Dr Lunia has been featured in various media outlets and has mentored over 1,000 students in writing fiction and non-fiction. His dedication to the craft has led him to run the second branch of EnGame in Morocco and author articles for various news websites.
2. As a successful digital marketing entrepreneur, Ramakrishna Goud T founded his own agency in 2015 after years of experience in the field. His agency now offers SEO, social media, and content marketing services to clients. Ramakrishna accent the importance of adaptability and building a strong team in order to thrive in the digital marketing space. His journey is an inspiring example for aspiring entrepreneurs in the field, providing valuable insights on how to build a successful business in today's dynamic and competitive digital landscape.
3. Rishabh Nahata is a young entrepreneur with a blend of creativity, values and perseverance. He already has 6 ventures in Pune in different service industry domains like sports, events and marketing. Rishabh is passionate about creating innovative solutions and bringing them to market, thus, now he has come up with his new venture, Dreams to Fly, which is a study abroad consultancy. It helps prospective students take a self-informed decision while choosing their career path. Dreams To Fly provides a one-stop solution for all study abroad needs, from counselling to helping students settle abroad. It aims to build the biggest network and community of students worldwide.
4. Dr. Ali Atif is a well-known Cranio-Maxillofacial Surgeon, Celebrity Facial Cosmetic Surgeon and Master Trainer in Facial Cosmetology in India. He has established himself as a skilled and reliable facial plastic surgeon with over 12 years of experience. Dr Atif has trained over 1000 doctors in his academy and treated several well-known celebrities across India. He runs his own center, Alpha Facial Aesthetics, in Lucknow, which provides high-quality services for facial aesthetics indications. He is popular on Instagram (@draliatifsiddiqui) for educational content on his subject, helping doctors and patients across the globe. His dedication to his craft and extensive experience make him a highly sought-after asset in the industry. Website Link: www.draliatif.com
5. Nikhil Nandgaonkar's travel consultation provides correct information about travel destinations without any bias towards good or bad sentiments. They aim to deliver the best services at reasonable costs and personalize their services according to the client's budget. Currently, they are into Domestic & International travel packages, Cruises, Visas, Domestic & International hotels and air ticketing. In addition, they are committed to resolving any issues that may arise during travel, showcasing their credibility and mettle in the industry. They are also running a program with social workers where they are offering a free trip to the bright students in backward regions of Maharashtra to encourage their multi-dimensional growth, highlighting their social responsibility. For more information on their services, contact Nikhil Nandgaonkar's travel consultation.
6. "Transform Your Business with Bharath Srini's Innovative Digital Entrepreneurship Courses and Branding Solutions" Bharath Srini, the founder of Dichithram Brand Designs, provides a range of services, including graphic design, brand strategies, and digital entrepreneurship courses. His goal is to help businesses communicate their message effectively in today's highly competitive business landscape. The team at Dichithram Brand Designs has a thorough understanding of design principles and branding strategies, which allows them to create visually appealing designs and customized brand strategies that differentiate businesses from their competitors and cultivate a loyal customer base. Bharath Srini's digital entrepreneurship courses equip entrepreneurs with the practical skills required to succeed in the digital age. His outstanding works has been acknowledged by renowned individuals and organizations, demonstrating his excellent reputation in the industry.
7. Prashansa Pawar is one of the young, dynamic and passionate Entrepreneurs in the Marketing & Advertising sector. She founded "The Life Guidance Center" three years ago for human welfare, which brought a revolution in this industry because it was an innovative idea to connect business with life. She sees business as an integral part, and that makes TLGC different from others. She is a loved author as well, she has written "How to Move On", a self-help book for human welfare.
8. Director Rajan Ji, a well-known filmmaker, director, cinematographer, and video editor in the Indian film industry, has established himself as a talented and reliable professional with over 8 years of experience. Rajan has worked with many well-known celebrities, including Jassie Gill, B Praak, and Parmish Verma, as well as popular brands like Tinder, Vodafone Idea, and Wildstone. He runs his own company, Sangeet Unplugged Films, which provides high-quality services for music videos, advertisement videos, and wedding shoots. Rajan's dedication to his craft and extensive experience make him a highly sought-after asset in the industry.
9. Neeraj Jain is a freelance graphic designer turned founder of Book of Memories, a personalised bitmoji book-making company. With a background in graphic design, Neeraj brings a unique perspective and set of skills to the bookmaking industry. He started the Book of Memories as a way to help people preserve their memories in a fun and interactive way. His company creates personalized bitmoji books that allow customers to relive their special moments through a unique and creative medium. Neeraj's design expertise and passion for innovation have helped make Book of Memories a success, and he continues to push the boundaries of what a book can be.
10. Harsh Adani: Excelling the domain of Ghostwriting Novels. Mr. Harsh Adani is an amazon bestselling author of the book 'The Case of Known-Unknown'. He marked his presence in the realm of literature with his above-mentioned debut book, which instantly charmed the Indian audience. Parallel to his own works, he channelled his writing prowess and creative skills toward ghostwriting novels in different genres that went on to become bestsellers in a very short span of time. Since then, well-regarded Ghostwriters such as Mr. Harsh Adani has constantly been bridging the gap between those who yearn to narrate a story and those who crave to hear them.
If you have any objection to this press release content, kindly contact pr.error.rectification[at]gmail.com to notify us. We will respond and rectify the situation in the next 24 hours.