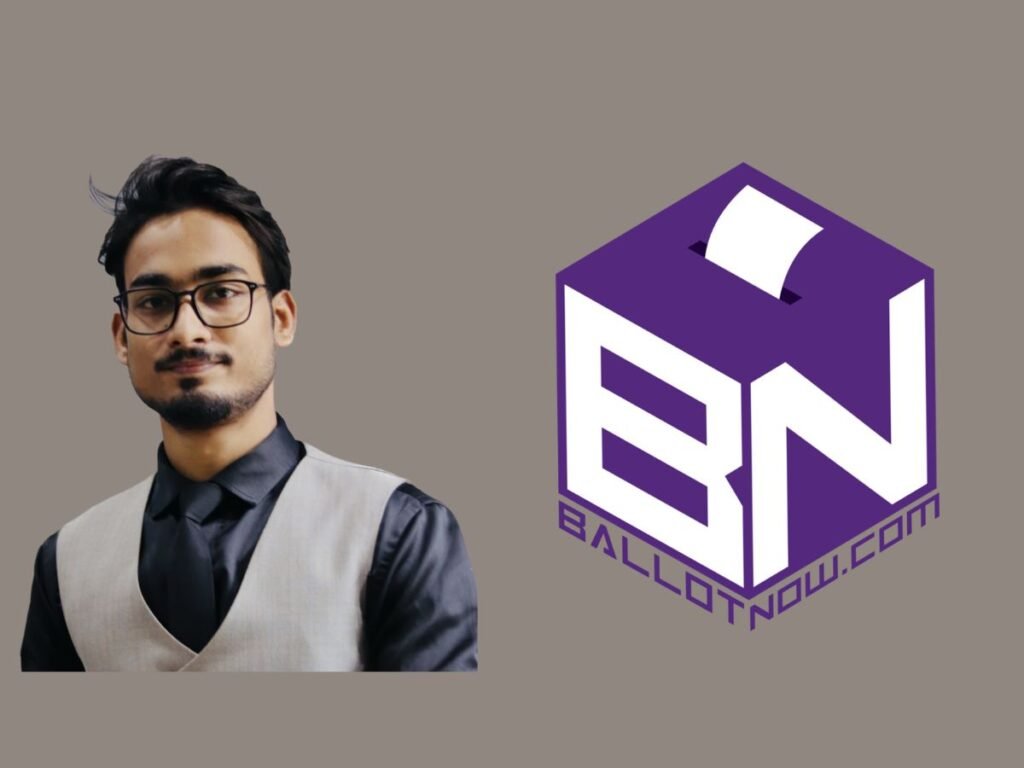 January 24: In today's digital age, technology has become an integral part of our daily lives. From making payments to landing on the moon, we trust technology to do it all. However, when it comes to conducting elections, we still rely on traditional methods. This is where BallotNow comes in.
BallotNow is the world's first Intelligent Voting System(IVS), created by Aman Rishu and his team to revolutionize the way we conduct elections. With the busy lives we lead, many of us are unable to vote due to work, travel, and time constraints. Aman and his team recognized this problem and decided to provide an alternative solution.
IVS allows voters to cast their vote in an election regardless of their geographical location using smart devices. This means that people who are unable to be physically present at polling stations can still participate in the election process. Additionally, Election Management bodies can save costs by conducting their votings on BallotNow Intelligent Voting System.
The system is built with intelligence, advanced technologies, configurations, and high-level security to ensure unbiased and transprant voting. It is a foolproof system and can conduct elections online by cutting election costs upto 34 percent. Blockchain Technology allows BallotNow IVS to be secure and hack-proof where as AI & ML allows the system to conduct fraud analysis. Instead of voting on intuition or being influenced by friends, family, or fake news; IVS assists you to make data driven decisions based on public opinion, government policies and their governance.
BallotNow is offering a Next Generation Voting System; friendly ecosystem with a blend of secure and systematic approach to connect, communicate, create election & cast vote.
So, take charge of your vote and let the technology bring revolution in Indian voting industry.
In the past, putting forward their efforts, the company has worked with various organisations from different domains involving universities, NGOs, corporates and Government such as Rotary International NGO, Delhi University Student Union Election, Indraprastha University, Bihar Assembly Election 2020, Punjab Assembly Election 2022 and Uttar Pradesh Assembly Election 2022.
For their dedicated efforts, the company has been awarded by many esteemed colleges, incubators, award forums, government programs, NGOs from all over India some of them are: IIT Roorkee, IIT Bombay, FMS Delhi, Ashoka University, Delhi University, IP University; Start Up India, Seed Fund India; Atal Innovation Center, Indian Innovation Council; Voting System Pioneer Award, Top Global Business of the year 2022, India 500 Startup Award 2021 and more.
BallotNow has served and assisted more than 500,000 people including government and private elections & surveys. The company has provided the government and regulatory authorities with valuable analysis on public opinions and feedbacks on their constituency or area.
Having believed in his notion Aman even went ahead and pitched his idea on the first season of Shark Tank India and went on to become one of the finalists.
The unique objective of the company has impressed the government and has secured a government grant under Startup India. They have also secured investments and resources from Indian HNIs and multinational corporations such as Amazon, Google, Zoho & more. They have recently announced a merger with a top leading global SaaS company at a valuation of more than 10 crores.
The founder of BallotNow, Mr. Aman Rishu, believes that BallotNow can be a channel allowing people to share their opinion with the government to frame better policies and better governance. Overall, BallotNow can be a game-changer in the way we conduct elections, making it more accessible and efficient for everyone.
To Learn More: www.BallotNow.com
To Connect: mail@ballotnow.com , https://www.linkedin.com/in/amanrishu
If you have any objection to this press release content, kindly contact pr.error.rectification@gmail.com to notify us. We will respond and rectify the situation in the next 24 hours.