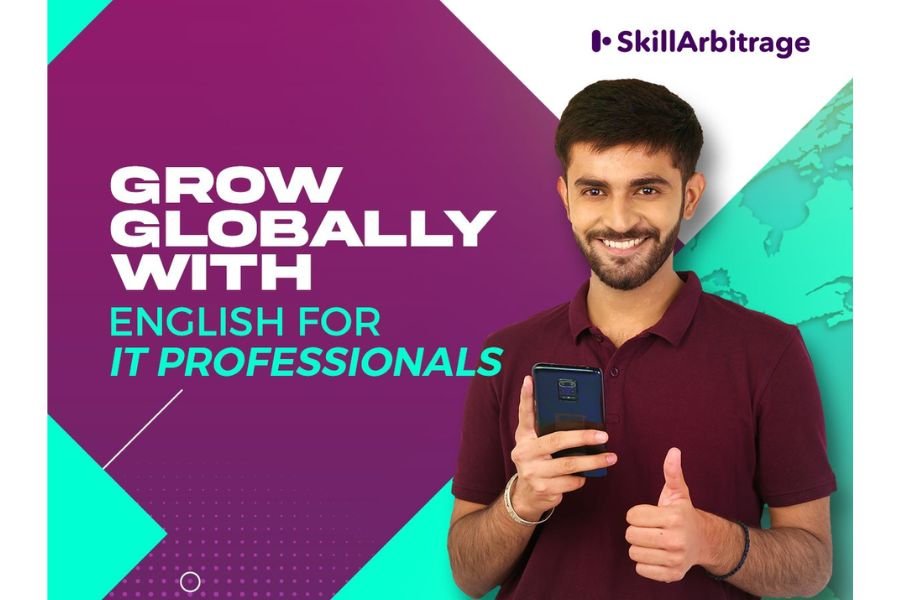 SkillArbitrage launches English language program for IT professionals
Gurugram (Haryana) [India], February 3: SkillArbitrage, the tech brand aimed at equipping Indian youth with skills for industry 4.0, has announced the launch of an English communication course specially curated for IT professionals. Increasingly, a lack of strong communication skills and an absence of mastery of the English language is coming in the way of many experienced Indian IT professionals' desire for better access to global opportunities and senior leadership positions.   SkillArbitrage believes that advanced corporate communication training with a special focus on communicating with international clients, and cross-border colleagues belonging to different cultures and pitching ideas in competitive, high-pressure, professional scenarios is the need of the hour.
The 6-month course has been designed to help professionals grab high-paying remote jobs, global clients and international opportunities in the IT industry. It is a holistic program with an emphasis on speaking, writing, pitching, persuasion, comprehension, responding to criticism, presentations, boardroom interactions, public speaking and overall communication, with a clear focus on career development and the unique communication needs of the IT industry. The course is suitable for IT professionals at all levels and will be taught by experienced instructors who understand the industry paradigms. Communication skills have a special significance for IT professionals since they often need to explain complex technical concepts to non-technical stakeholders, such as managers, clients, or customers from different parts of the world. This requires the ability to communicate technical information in clear and simple terms, which comes with a strong hold over the English language, which is the common tongue of the international IT community.
However strong the technical knowledge, if a professional is not able to bring strong communication skills on board, it becomes a hindrance to career growth. At a time when remote work has blurred geographical boundaries, IT professionals are working on projects that involve multiple teams in different locations around the world to achieve a common goal. Once again, this requires strong communication skills to ensure that everyone is on the same page and that any issues or concerns are identified and addressed efficiently. The course is gaining popularity among software engineers, IT professionals, product managers, and engineering students from different fields, among others. Especially, developers who are trying to transition from services companies to product side are finding communication skills very beneficial. "We are excited to offer this course to IT professionals," said Ramanuj Mukherjee, CEO, SkillArbitrage. "With an increasing number of multinational companies identifying lack of effective communication skills amongst their programmers as a significant business challenge, we believe this course will be invaluable for IT professionals looking to improve their English language proficiency and advance their careers."
About SkillArbitrage
SkillArbitrage is an initiative of Addictive Learning Technology Pvt Ltd, the name behind one of India's largest and most reputable online tech brands.
The initiative seeks to address the changing nature of global businesses in a post-Covid world, as remote work increasingly becomes the new normal, and companies can thus recruit talent from anywhere in the world.
It offers the best professionally trained talents in areas such as policy drafting, content creation, virtual assistantship, privacy management, and strategic HR, to recruiters.
In addition, SkillArbitrage offers intensive, practical, and globally accredited training in areas such as content writing, privacy management and cyber security, HR policy, investment term sheets, and finance management, to recruits.
If you have any objection to this press release content, kindly contact pr.error.rectification[at]gmail.com to notify us. We will respond and rectify the situation in the next 24 hours.