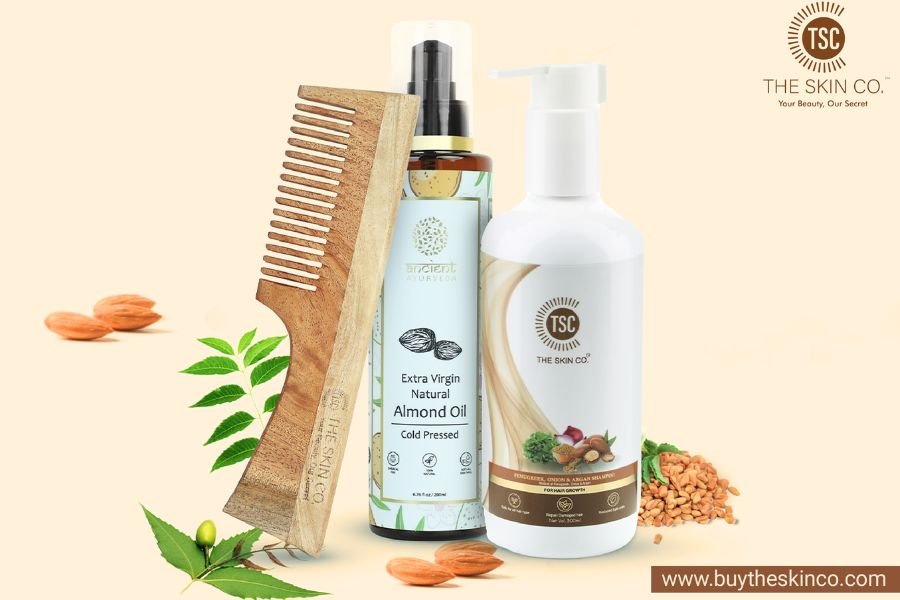 New Delhi (India), March 10: The pre-eminent and finest skincare collection was put in place by The Skin Co. with the aim to provide the best skin care everybody demands. Their entire team works to redefine the life and health of the skin. Skin Co. is built on the pillar of providing the best to its customer and keeping them close to the goodness of nature through advanced natural and organic formulas, which ensure long-term skin health and happiness. A true gift to and from nature.
The motivation to drive The Skin Co. is to create The Skin Co. products to create change in the life of people by guiding nature toward life. All the products that are created are 100% natural and skin-friendly to make people look beautiful and bring back the charm that has been gone due to photoaging. They are creating natural and skin-friendly products with zero chemicals. Keeping people close to nature with their exceptional skin care products that are safe for all skin types. Additionally, no products or source ingredients are tested on animals, and the product manufacturing is completely free from animal testing.
They experimented thoroughly and got succeeded in finding the magic mantra of nature of being forever fresh and beautiful. Being close to nature is the best gift one can get in life. The Skin Co. works with the aim of giving consumers a gift of nature to revive their skin and body. By creating 100% natural products with the goodness of nature that is clinically tested. Each and every product is formulated with 100% natural ingredients and is skin-friendly; no chemical is used to create the products. They furnish every product to give the skin and body the nourishment it needs, all with natural products. The team strives to do the legwork day and night to bring people close to nature and provide health and safety.
Ancient Ayurveda is an ancient Indian system of medicine that has been used for centuries to promote healthy and glowing skin. It is based on the belief that the body, mind, and spirit are interconnected and must be in balance for optimal health. Ayurvedic skincare focuses on using natural ingredients to nourish the skin from within. Ancient Ayurveda provides a holistic approach to skincare that can help you achieve beautiful, glowing skin without harsh chemicals or treatments.
The company has yielded the ultimate range of some exceptional miracle wanderer face gel products inculcating Aloe vera, neem, and tulsi that boost immunity and nutrients that are best for skin and hair. The Skin Co. has also introduced a blend of walnut, almond, shea butter, and coffee face scrub products that awaken the skin with instant refreshment, and it has a soul-catching aroma with deep cleansing components that not only exfoliates but also removes dead skin. Moreover, the coffee presented in it helps in reducing cellulite appearance on the skin and also stimulates blood circulation, too suitable for all skin types and makes it free from harmful chemicals.
Selecting good hair oil as per the hair condition is the first primitive step to getting healthy and shiny hair. The Skin Co. introduces you to the Fenugreek, Argan & Onion Hair Oil for Hair Regrowth & Hair Fall Control with an advanced formula of natural ingredients. The onion present in it not only reduces hair fall but also accelerates hair regrowth. It unclogs blocked roots to boost new hair growth. Fenugreek and Black seed present in it add shine, strength, and luster to the hair. Argan oil moisturizes hair to remove dryness and maintain moisture. This hair oil is made up of natural ingredients and is free from harmful chemicals. It is safe to use it for colored and chemically treated hairs. This hair oil is best to reduce hair fall and hair regrowth.
Importantly, The Skin Co. has given consumers access to some of the finest natural healing products Ancient Ayurveda range, including face packs, which are age-old methods for managing skin issues and maintaining skin health. They purchased this herbal treatment that is simple to use to promote healthy skin. The Skin Co. Aloe Vera Neem face pack is a wonderful blend of Aloe Vera and Neem with the goodness of Multani Mitti to remove skin impurities, and alleviate pimples, while moisturizing and preserving its natural charm.
Furthermore, the all-natural skincare mixture known as the Kesar Haldi Chandan face pack helps in achieving radiant, healthy skin. It has all the organic components necessary to produce clear, spotless skin that glows naturally. Amba Haldi, which has healing qualities, Chandan, Aloe Vera, and Rose Powder, which cools the skin and soothes it, Saffron, which encourages skin regeneration, Orange Powder, which clarifies skin, and Neem Powder, which lessens acne breakout and purifies the skin, are the main ingredients present in it.
Each and every ingredient in this face pack has been carefully chosen in order to clarify and recover the health of the skin.
The Skin Co. also equips us with incomparable Neem Combs that are made from young Neem wood to deliver essential nourishment to the scalp and hair. It promotes a healthy scalp and distributes scalp oil equally with every stroke. Its design prevents hair breakage at the time of combing and detangles them easily. The Skin Co. brings the marvelous tradition of the Multani Mitti face pack to give the benefit of natural skin treatment to get naturally beautiful clear skin. Multani Mitti means the "mud of Multan" and is popularly known as fuller's earth. It is packed with minerals and is thus beneficial for skin and hair.
Ayurveda has hidden various magical elixirs in it. One such Elixir is Kumkumadi Oil, which is considered a beauty potion'. It is named so due to its ability to treat various skin problems and make it glow like gold. It is a key secret to having glowing and flawless skin. One of the major ingredients of this oil is red-gold saffron which is known as 'KumKuma' in Sanskrit and hence the name comes 'Kumkumadi Oil'. Coming up with the real goodness of this oil with 100% purity. It is cold-pressed to maintain its natural ingredients and factors.
The Skin Co. is a subsidiary branch of Vamar Ventures whose headquarter is in New Delhi, India. Nonetheless, the team stands on foot to deliver the best as they believe in not buying but earning customers by creating a difference. Their main focus is to hand over the finest range of luxury skincare products to the buyers. Second, to none their entire collection of products is 100% natural and contains a pure extract from plants moreover they do not use any animal by-products or animal derivatives in products.
If you have any objection to this press release content, kindly contact pr.error.rectification[at]gmail.com to notify us. We will respond and rectify the situation in the next 24 hours.