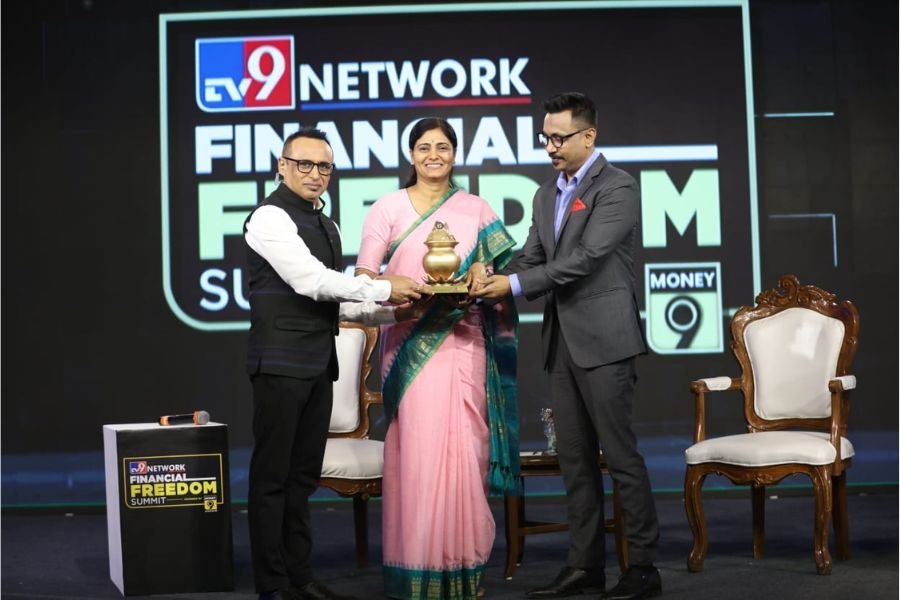 Hailing Money9 as an out of box proposition, top industry leaders including Kotak AMC MD, Nilesh Shah, and Radhika Gupta, MD, Edelweiss AMC, endorse its call for bridging supply demand gap. Money9's new age offering – 'DataCoin' – first independent data depository, announced at the Summit, too drew a round of applause.
Mumbai (Maharashtra) [India], March 22: Supporting India's financial inclusion mission, Money9, India's first and only multimedia multilingual personal finance platform promoted by India's largest television news network, TV9 Network, held its first day-long Financial Freedom Summit (FFS) on 15th March in Mumbai.
The marquee initiative witnessed India's financial policymakers, leaders, and influencers join forces and exchange ideas & solutions in attaining financial freedom at a much faster rate, thus making the event a huge success. The highlight of the event was the launch of the Money9 new age offering – 'DataCoin', the first independent personal finance data depository, by Minister of State for Commerce and Industry Anupriya Patel. Summit also took a sneak peek at Money9' upcoming Super App.
Delivering her inaugural keynote address, Minister of State, Commerce and Industry, Anupriya Patel said, "The Centre has worked towards the objective of financial inclusion, which makes people aware of its need and is beneficial for the nation's overall economic prospects. I see Money9 as an able ally in enabling financial security of 1.4 crore citizens of India."
Inaugurating the Financial Freedom Summit , the minister hailed the unique initiative. The Summit ringed all-round praise for the super app of Money9 and applauded the Money9 Personal Finance Survey, which covered more than30,000 sample households across the country executed to help collectively draw the financial freedom roadmap.
Speaking about the Summit, TV9 Network MD and CEO Barun Das said, "I have always maintained that while the supply side looks like having been well established, the demand side is a laggard and needs to perk up to create the true inclusion ecosystem. I am happy to note the all-round endorsement of this challenge by top BFSI leaders who addressed the Financial Freedom Summit."
"I am further pleased with the proactive support extended to Money9 Financial Freedom Mission by the entire BFSI industry and am confident that together we will be able to traverse the hitherto uncovered journey and enable financial security for all of India."
While delivering the keynote address, Kotak AMC's MD Nilesh Shah said, "For any kind of investment, savings are a must, and for growth investment, it is a must." He reiterated his "Lage Raho Munna Bhai" slogan to get a larger population into the equity fold through the mutual fund route.
Radhika Gupta, MD & CEO of Edelweiss AMC, said, "In India, mutual funds are underrated, and there is a perception that MFs deal only in shares and are risky. This needs to be corrected." She hailed Money9 DataCoin as a mint fresh initiative that would aid financial inclusion.
Saugata Bhattacharya, Senior Vice President of Axis Bank, said, "One basic thing that explains financial savings increase is high economic growth. Growth is an imperative."
The full-day conclave covered an array of topics focusing on encouraging and boosting the trust of the small investor. The varied topics covered at the Summit included exclusive sessions such as Insured Bharat, Secured Bharat, Invest Bharat, and Fintech Bharat.
Speaking during the Secured Bharat session, Bhattacharya, Senior Vice President of Axis Bank, said, "One basic thing that explains financial savings increase is high growth."
The other speakers at the summit included: Dipan Mehta, Founder Elixir Equities & Member of BSE, NSE, CDSL, Subhrajit Mukhopadhyay, ED, Edelweiss Tokio Life, Venkatesh Naidu, CEO, Bajaj Capital Insurance; Harsh Roongta, Certified Financial Planner; Priya Deshmukh Gilbile, COO, Manipal Cigna Health Insurance; Siddhartha Sanyal, Chief Economist & Head Research, Bandhan Bank; Rajani Sinha, Chief Economist, CareEdge; Atul Joshi, MD & CEO, Oyster Capital; Nilesh Shah, Group President & MD, Kotak Mahindra AMC; Sandeep Bagla, CEO, Trust MF; Hemant Rustagi, CEO, Wiseinvest; Aashwin Dugal, Co-CBO, Nippon India MF; Mohit Gang, Co-Founder & CEO, Moneyfront; Varun Chopra, Co-Founder & CEO, Eduvanz; Pankaj Bansal, CBO, Bank Bazaar and Shachindra Nath, Vice Chairman & MD, UGRO Capital.
If you have any objection to this press release content, kindly contact pr.error.rectification[at]gmail.com to notify us. We will respond and rectify the situation in the next 24 hours.