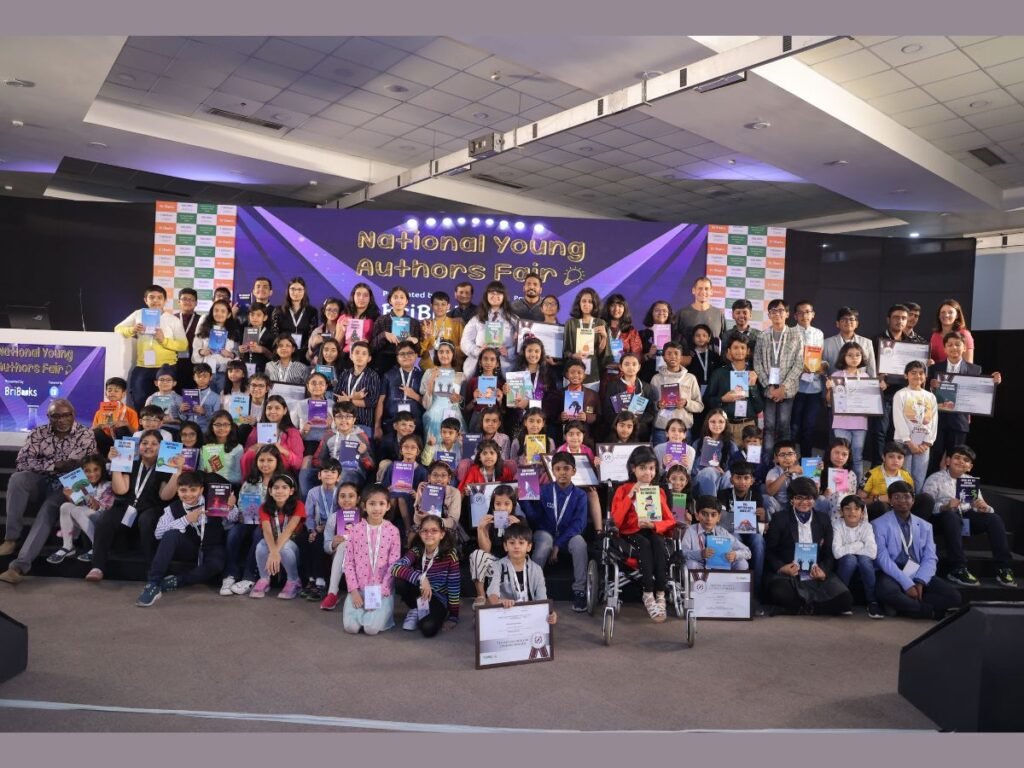 BriBooks successfully concludes the Indian edition of National Young Authors Fair – The World's largest book writing competition
New Delhi (India), March 28: BriBooks and Education World announced the successful conclusion of India's National Young Authors Fair, the first of its kind event which inspired over 100,000 students to publish their first book and experience a journey of entrepreneurship.
The fair provided young authors with a lifelong souvenir of their published works, an opportunity to speak, a writing experience, an entrepreneurial journey, and hundreds of hours of reading and writing. Schools from across the country participated, with Cambridge School – Indirapuram, JBCN International School – Parel Branch, Apeejay School NOIDA, Modern Public School – Shalimar bagh, Birla Vidya Niketan, The Shriram Millennium School, Bal Bharati Public School, and The Heritage School Vasant Kunj winning multiple awards.
In conclusion of the event, Ami Dror, founder at BriBooks said "We are thrilled to have organized the National Young Authors Fair and given an opportunity to young authors to publish their first book. We hope that this experience has provided them with a lifelong love for reading, writing, and entrepreneurship." Bhavin Shah, CEO of Education World said "As the curtains close on the National Young Authors Fair, we can't help but feel a sense of pride and awe at the incredible stories written by the children who participated. We believe that writing has the power to transform lives and communities, and we are honored to have been a part of this transformative event. We thank BriBooks for their expertise and passion in making this event a reality."
An awards ceremony was held on March 25th to recognize jury award winners and best-selling authors. The awards ceremony was attended by 500 people, including jury members, young authors, and esteemed guests. The jury included renowned personalities like Pulitzer Prize winner journalist Dele Olojede, bestselling author (of Start-Up Nation) and columnist Saul Singer, and Edesia Nutrition founder & CEO Navyn Salem.
Jury member Saul Singer shared that "I am truly impressed by the talent and creativity of the young authors. It is inspiring to see the next generation of writers and entrepreneurs take charge and showcase their work. I wish these budding writers all the luck and hope to hear more of their stories in the coming years."
Winners of the Jury Award included Tara Kumar for 'The Dead Alive and In Between', Advik Yambalada for 'Lessons from The Animal Kingdom', Dia Shangbag for 'Emotional Well-Being', Utsa Banerjee for 'Riki and Her Dream', and Tvarita Guliani for 'Princess of Beauty Island'. Tara Kumar, author of 'The Dead Alive and In Between' and winner of the jury award said that "Winning this award is a dream come true. It has encouraged me to write more and continue to share my thoughts with the world. I heartily thank BriBooks for giving me and all the other authors this opportunity to tell our stories to the world."
After the books were printed and published, young authors promoted their work through social media, public readings, and school events. Some authors sold over 1000 books in just 30 days. The best-selling authors included Dhairya Sudarshan with 'Savi Our Saviour', Keya Hatkar with Dancing on My Wheels', Kshipra Moreker with 'Learning From the Jungle', Kunwar Vikram with 'Nature Teaches Love', Rudraang Goenka with 'The Rise of The Great Insane', Subasree Bharathi with 'My Talking Cat', Roohi Sharma with 'Memories Miracles Magic', Hiyansh Joshi with 'The Rescue Rabblets', Tania Boya with 'The Journey', and Tvarita Guliani with 'Princess of Beauty Island'.
If you have any objection to this press release content, kindly contact pr.error.rectification@gmail.com to notify us. We will respond and rectify the situation in the next 24 hours.