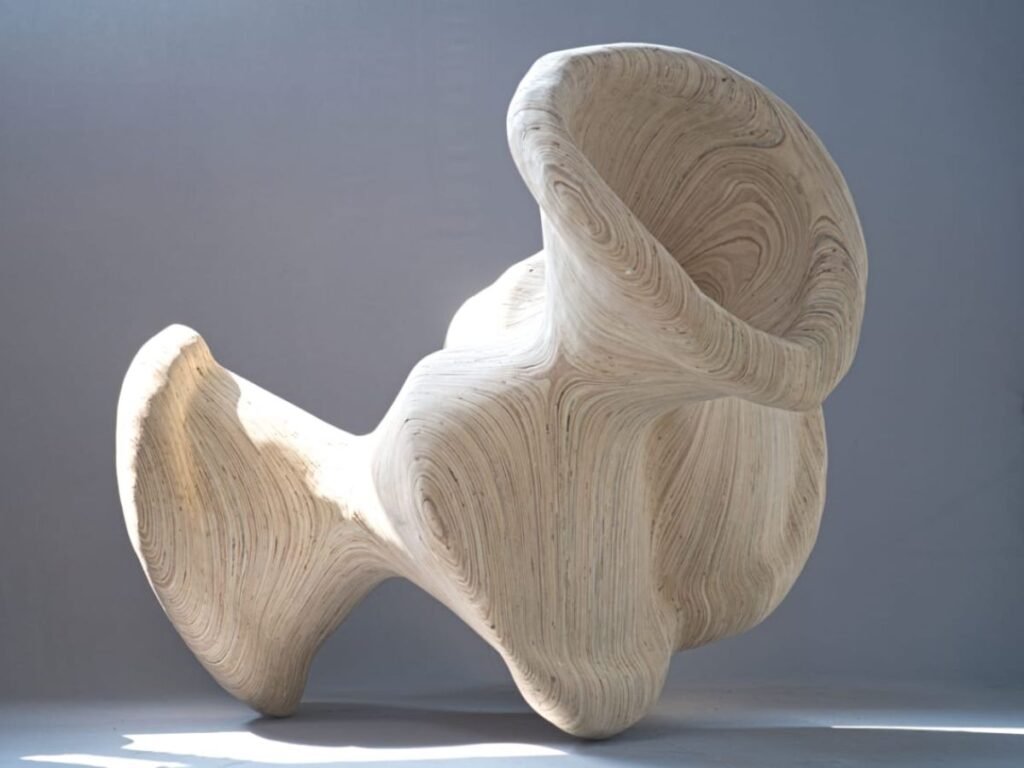 Harsha Durugadda, "Sound of Rain", 60x45x37 inch, 2021
TAF is thrilled to announce the winners of the second edition of the TAF emerging artist award South Asia 2023. Launched two years ago by London-based non-profit initiative, The Arts Family (TAF), the Award is designed to give recognition to up and coming artists from South Asia and the diaspora.
London (UK), March 13: Out of twenty short-listed candidates for the second edition of the TAF Emerging Artist Award – South Asia 2023 the winners were announced this week. Around 1,000 applications were received– a 25% increase compared with the Award's inaugural year in 2021 – with works in painting, sculpture, photography, textile, digital and other art forms.
Open to entries by emerging artists under the age of 40 from Bangladesh, India, Pakistan, Bhutan, Nepal, Maldives, Afghanistan and Sri Lanka. £4,500 worth of prize money are awarded to the most innovative artist in their chosen medium.
We look forward to working with these artists in 2023, and providing them with international exposure and opportunities to showcase their work in London, South Asia, Europe and other locations.
For our First edition in 2021, we were able to provide several international exhibitions and group shows for our artists to showcase their work with an ongoing exhibition at the Anant Art Gallery in India running until the 25th March.
The shortlist and winners were selected by a jury comprising high-profile professionals in the arts of South Asia who are leaders in their field and comprise: Lekha Poddar (Devi Art Foundation, Founder), Julia Hutt (ex-Curator V&A Museum, London), Amit Kumar Jain (Director, Anant Art Gallery), Malini Roy (Head of Visual Arts, British Library), Shanti Panchal (Master British Indian Artist) and Neha Jaiswal (Founder, The Arts Family).
"We are honoured and privileged to be able to draw upon the collective knowledge and deep understanding of art from South Asia through our high profile jury", said TAF founder, Neha Jaiswal.
First Award Winner: Harsha Durugadda, Hyderabad
Harsha Vardhan Durugadda (b. 1989) is a multidisciplinary artist based in Hyderabad, India. Durugadda has completed his Master's in Arts and Aesthetics from Jawaharlal Nehru University, New Delhi (2016). He has recently participated in several group exhibitions including Contemporary Landscape, CICA Museum, South Korea (2022), HopScotch, Gallery27, Kochi (2022), Material Matters, APRE Art House, New Delhi (2022), Timelapse, India Art Fair, APRE Art House, New Delhi (2022), and has held his solo exhibition Between the Lines at Centre D'art, Auroville (2021) as part of a residency there. Durugadda's works are included in several permanent collections such as the Bengaluru Airport (2022), and RMZ Foundation (2022) to name a few. Harsha will receive £3,000 in prize money.
Second Place Award: Kallol Datta (b. 1982) is a clothing designer and visual artist from Kolkata, India with a background in Womenswear from Central Saint Martins, London (2006). Datta's works have been a part of several exhibitions including De Poéticas a Políticas, Premio Jameel; Museo Franklin Rawson, San Juan (2022); Art Athina, Zappeion Mansion, Athens (2022); De Poéticas a Políticas: Premio Jameel, Centro Cultural La Moneda, Santiago (2022); Volume 3 Issue 2, Experimenter Gallery, Kolkata (2022); Jameel Prize: Poetry to Politics, Victoria and Albert Museum, London (2021) and Distortions in Translation, Aomori Contemporary Art Center, Aomori (2021) to name a few. His writings have appeared in several publications such as Verve, Vogue and Elle among others. Kallol will receive £1,000 in prize money.
Datta is interested in clothing practices from North Africa, West Asia, the Indian subcontinent and the Korean peninsula. His design process involves rigorous creative research and experimental pattern-cutting. In his bold contemporary clothing, Datta mines and combines the shapes of the abaya, manteau, hanbok, hijab and caftan, with gestures of enveloping, layering and veiling. Datta will receive £1,000 in prize money.
Third Place Award: Purvai Rai (b. 1994) is a Delhi-based graphic and textile designer and multimedia artist. Rai completed her Bachelor's degree from Srishti Institute for Art, Design and Technology, Bengaluru (2017). Rai's works have been exhibited widely at Delhi Contemporary Art Week, New Delhi (2022); Riyas, Inam Gallery (Bikaner House), New Delhi (2022); Woman is as woman does, JNAF, Mumbai (2022); Fleeting Expressions, Gallery Espace, New Delhi (2022); Lines (by) Lines, Dhoomimal Gallery, New Delhi (2022) and India Art Fair, New Delhi (2022) among others.
Rai's delicate graphite and ink drawings on rice paper are conceived in response to social and political events, specifically those caused by religious and cultural discord. Distilled into an abstract visual language consisting of circles and elliptical patterns, Rai's work alludes and (re-)presents the precariousness of existing on the margins. The artist also works with natural materials like jute, cotton, and yarn and is particularly interested in the tactility of these natural fabrics and how in the recesses of its weaves reside familial and generational memory. Rai will receive £500 in prize money.
The TAF Emerging Artist Award was started in April 2021 with the aim of promoting young talented artists from South Asia internationally and to give them a wider platform to showcase artistic talent from the region.
This year we have also added a new award category- TAF Young Artist Mention (22-26 year old) awarded to digital artist Arinjoy Sen. Arinjoy Sen (b. 1996) is an architect and artist based in London. Sen's works have been exhibited internationally at the African Futures Institute, Accra (2023), Pinakothek der Moderne Museum, Munich (2023), Bartlett School of Architecture, UCL, London (2020–2021), and nationally with Terrain.art, New Delhi (2021). He has won many accolades including the RIBAJ EyeLine Prize for Drawing (2020), the Sir Andrew Taylor Prize (2021) and Entrepreneurial and Delivery Prize for Design Realisation (2020) at the university. Sen's writings have appeared in The Architect's Journal, The Architectural Review, The Funambulist, Designs on History and RIBA Journal among several others.
"We have been very excited by the positive response we have been receiving from artists, gallerists and curators throughout the last year. During the summer months, we have been busy reviewing around 1,000 artist applications", said TAF Founder, Neha Jaiswal.
TAF has been able to assist with the development and promotion of South Asian artists through a number of channels, from being promoted on our social media channels and within the growing TAF network of art professionals in London and South Asia. Another benefit for the shortlisted candidates is knowledge sharing via a new series of live streamed art market talks with international art professionals. The TAF TALKS series has been designed to give the TAF artists guidance and insights into developing a career as an artist internationally. In addition, we have the opportunity for the shortlisted and finalist artists to take advantage of a handful of available mentorships in international art business practices led by the post-graduate specialist students of Sotheby's Institute of Art who are studying, or recently graduated from, the MA in Art Business programme in London in 2023.
The 20 Shortlisted Candidates for the TAF Emerging Artist Award South Asia 2023 include: Sachin George Sebastian, New Delhi; Tapan Moharana, Odisha, India; Kallol Dutta, Kolkata, India; R. Magesh, Chennai, India; Arpita Akhanda, Kolkata, India; Haidar Ali, Lahore, Pakistan; Farrukh Addnan, Lahore, Pakistan; Indu Anthony, Bangalore, India; Purvai Rai, New Delhi, India; Santanu Dey, Kolkata, India; Maryam Hina Hasnain, London, UK; Bhimanshu Pandey, Jaipur, India; Harsha V. Durugadda, New Delhi, India; Sonam Jain, Chandigarh, India; Sachin George Sebastian, Bangalore, India; Debashish Paul, Nadia, India; Tilottama Bhoumik, Comilla, Bangladesh; Manish Harijan, Kathmandu, Nepal; Chathuri Nissansala, Columbo, Sri Lanka and Mohammed Idrees Hanif, Pakistan.
If you have any objection to this press release content, kindly contact pr.error.rectification@gmail.com to notify us. We will respond and rectify the situation in the next 24 hours.